Associate Membership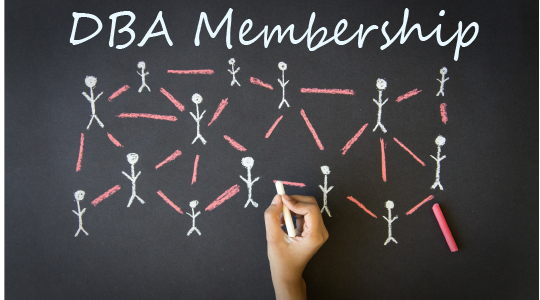 Associate Membership in the Delaware Bankers Association helps you stay connected to Delaware's vital Financial Services industry. Membership in the DBA also helps you save money by affording your firm significant discounts to DBA sponsored events.
DBA Associate Membership is open to vendors and other tax-paying entities that do business with financial institutions. Associate membership annual dues are only $1,200 (based on a 6/1 to 5/31 membership year).
Associate Membership offers many advantages including:
Invitation to exclusive DBA member events
Sponsorship opportunities at DBA events
Discounted rates on advertising and sponsorship
Free subscriptions to Delaware Banker magazine
Additional tiered membership discount packages
Participation in selected DBA committees
Participation in DBA educational programs
Speaking opportunities at DBA professional development events
Opportunities to submit articles to Delaware Banker magazine
All applications for membership are subject to DBA Board of Directors approval. In accordance with the By-Laws of the Delaware Bankers Association, Associate Members shall have no vote, nor may they chair a committee, but are invited to attend all Association business, educational and social functions.
For more information on Associate Membership in the Delaware Bankers Association contact:
Margaret Cregan
VP, Membership & Administration
302-678-8600
margaret.cregan@debankers.com
Associate Member Discount Packages
Associate Members can realize even more value out of their DBA membership through a Sponsorship/Advertising package. These packages allow members to stretch their marketing dollars by receiving significant discounts through the bundling of ads in Delaware Banker magazine, event sponsorships, and annual dues. For more information on how we can tailor a discount package to your organization's specific needs contact Greg Koseluk at greg.koseluk@debankers.com.