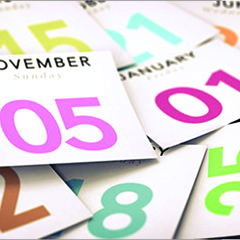 DBA Calendar of Events

October 24th & 25th, 2017
2017 Delaware Trust Conference
Chase Center at the Riverfront, Wilmington, Delaware
Visit our Trust Conference Page!


Sponsorship and Exhibitor Space Available!
November 14th, 15th & 16th, 2017
2017 Regulatory Compliance School
University & Whist Club, Wilmington, Delaware

The Delaware Bankers Association and Capco RISC Consulting, LLC present the 2017 Regulatory Compliance School. The school offers a comprehensive review of the federal laws and regulations affecting the financial services industry. Keep current on the changes in the Regs you deal with every day on the job. Earn CPE, CRCM, DE and PA CLE continuing education credit! Full Agenda and Registration Form.