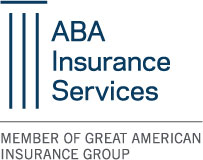 ABA Insurance Services
ABA Insurance Services, a member of Great American Insurance Group, is a long-term, reliable and stable source of insurance for financial institutions, including trust companies and banks in organization, up to $20 billion in assets. This unique program has been committed to serving and supporting financial institutions by providing quality insurance and excellent customer service for over 30 years.




Supporting the Banking Industry

Our Professional Liability and Financial Institution Bond program (Primary Coverage) is co-endorsed by the American Bankers Association and 34 state bankers associations, including Delaware Bankers Association.
1,500 financial institutions countrywide are insured through the program, including 30+ trust companies.
The only professional lines program in the marketplace to offer a distribution. The program's reinsurer, American Bankers Mutual Insurance, Ltd., has declared distributions to participating banks for over 30 consecutive years, totaling nearly $100 million. Close to $1,000,000 of that has been shared with Delaware banks. In 2021, Delaware financial institutions shared over $47,000.



ABA Insurance Services' Advantages

We are recognized as insurance experts who understand banking operations. Our tenured and experienced team of underwriting and claims professionals—many with backgrounds in the banking industry—are highly regarded for their in-depth knowledge and expertise.
As pioneers of cyber coverage, we have a deep understanding of cyberrelated banking issues with our program introducing the first Internet banking coverage to the bank market in 2001.
We help mitigate risks by providing free and valuable loss control resources: SafeTalk® newsletters; SafeAlert® bulletins and webinars: Employment Practices Helpline and HRRiskManager.com for EPLI customers, managed by the national law firm of Littler Mendelson: Our Cyber Program features breach/loss control resources for Cyber insureds, including a 24/7 Breach Hotline, powered by BakerHostetler
The hallmark of our program is our customer service. We are renowned for our prompt and honest communication, and for providing quotes and proposals by mutually agreed upon promise dates.



Primary Coverage

Directors & Officers Liability (D&O)
Financial Institution Bond
Cyber Liability
Employment Practices Liability (EPLI)
Bankers Professional Liability
Lender Liability
Trust Services Liability



Specialty Coverage

Surety Bonds, including STAMP
Excess Liability
Property & Casualty
Contact:
Patricia P. Williams, CPCU, Business Development Manager
direct: 216.220.1280; cell: 410.960.6878
pwilliams@abais.com
Visit ABA Insurance Services' website, abais.com, for coverage and loss control information
Policies are underwritten by Great American Insurance Company, Great American Assurance Company, Great American Alliance Insurance Company and Great American Spirit Insurance Company, authorized insurers in all 50 states and the D.C. Distributions are paid by American Bankers Mutual Insurance, Ltd. (ABMI) to member banks of the American Bankers Association (ABA) insured by ABA Insurance Services Inc. (ABAIS). Please note that ABMI is not an affiliate of ABA or ABAIS. ABA membership may be subject to eligibility requirements; please contact ABA for more information. Prior distributions by ABMI are not a guarantee of future distributions. © ABA Insurance Services Inc. DBA endorsed program for D&O/Bond related coverage only ("Primary Coverage"), and not those products listed under "Specialty Coverage." 092021.SBA7 Insurance products are available where approved and/or applicable. All coverage descriptions are provided for informational and educational purposes only and are not a representation as to coverage. For details on the coverage provided by your specific contract of insurance, please refer to your policy. 3401 Tuttle Rd., Suite 300, Shaker Heights, OH 44122.