Women Connect
Our mission is to be a catalyst to engage, empower and connect women in the Financial Services Industry. We do this by convening to discuss relevant issues affecting the State. Through sharing of best practices we create innovative solutions that impact the communities in which we live and work.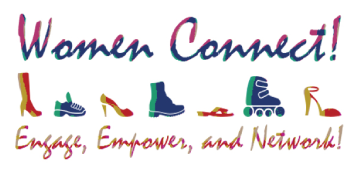 2021 Women Connect Happy Hour - December 8th
Join us for a night of networking! Reconnect with Women Connect December 8 at Makers Alley in Wilmignton. Open bar from 4:00 pm - 6:00 pm with live music, cornhole, and light appetizers. Registration is required. Space is limited - register today!
2021 Women Connect Speaker Series - On-Demand!
All sessions of the 2021 Women Connect Speaker Series are now available for on-demand viewing. You can watch all six dynamic Women Connect sessions in 2021 for just $199 for DBA Members, or attend individually for $39 per session for DBA members. Empower and connect with great speakers and sessions!
Sponsored by...
Delaware Community Foundation
Santora CPA Group
The Bryn Mawr Trust Company of Delaware
Build Your Personal Brand
Whether you are growing your own clientele, or reputation within a company, it is important to know exactly what you want to be known for in order to grow your personal and professional brand reputation with your clients and colleagues. Using examples from real-life personal brands of national influencers that Laura Meyer has helped develop, you will leave this interactive session with clarity on how to take your personal brand from generic or non-existent to exceptional, elevated, and extraordinary.
Speaker - Laura Meyer, CEO & Founder, Joy Brand Creative
Business Ready Essentials
Learn how to command the room, project trustworthiness and competence before you speak, reclaim your ideas, and create a business ready wardrobe. Avoid words that sabotage effectiveness and Credibility Robbers℠ that diminish influence and derail careers. This interactive session will provide the skills and techniques to create a personal brand that gives attendees visibility and greater influence in business.
Speaker - Danielle Turcola, President, Professionalism International, Inc.
Building Rapport and Engagement
A dedicated Senior HR Professional and proud recipient of the 2017 Delaware Valley HR Person of the Year award for medium-sized companies, Cathleen Hitchens thrives on the challenge of ensuring we do the right thing for our associates, our company, and our community. With 20+ years in the HR field Cathleen will guide attendees on how to build rapport and engagement while enhancing long-term relationships within all levels of any organization.
Speaker - Cathleen Hitchens, SVP of Human Resources, Flagship Credit Acceptance
Taking the Work out of Networking
Take the Work Out of Networking! It's easy to make connections that count. While you may get energized by working the room, others panic at just the thought of introducing themselves to someone they don't know. Join the panel of master networkers as they share tips and techniques to help even the most introverted introvert become a star networker online or at an event!
Speakers:
Robert Eaddy, President, The Bryn Mawr Trust Company of Delaware
Betesha "Bea" Ethridge, Banking Officer, Branch Manager, United Bank
Nadya Ichinomiya, Executive Director, Sony Pictures Entertainment; Chairwoman, Women in Tech: Hollywood
Dinette Rivera, Owner, Rivera Business Development Group; National Association of Women Business Owners, Delaware Chapter
Moderator: Sarah Long, President & CEO, Delaware Bankers Association
Leveraging Your LinkedIn
Does social networking leave you mystified? Wonder how it can work for you and your career? Join Michael Coniglio, Assistant Vice President, Senior Business Analytics and Reporting Analyst, Wilmington Trust, as he presents Leveraging Your LinkedIn! Michael will provide the tricks, tips, and insights on how to navigate the often confusing social media landscape.
Speaker - Michael Coniglio, AVP, Senior Business Analytics and Reporting Analyst, Wilmington Trust
Exploring Emotional Intelligence
Explore the powerful EQ-i 2.0 approach that includes Problem Solving and Stress Management topics. This EQ-i program blends training and coaching strategies to help you and your colleagues analyze how often they use the skills, determine their impact on others, and balance their usage for increased professional and personal well-being.
Speaker - Linda Comerford, Comerford Consulting